BLUE News ARTICLEs:
Blue Buffalo to Sponsor the Wounded Warrior Amputee Football Team Tribute to Heroes Football Game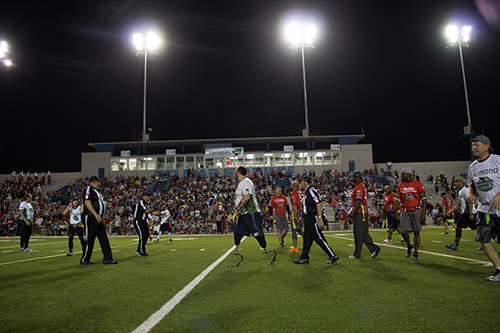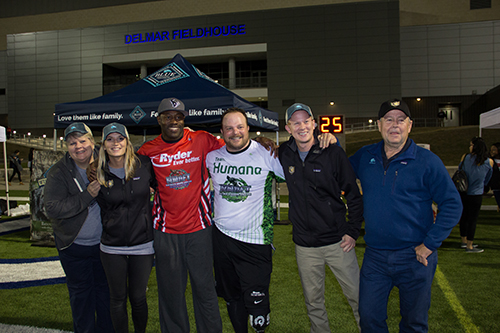 WILTON, Conn., Jan. 30, 2017 (GLOBE NEWSWIRE) -- Blue Buffalo (Nasdaq:BUFF) is honored to be a sponsor of the Wounded Warrior Amputees vs. Texas NFL Alumni Tribute to Heroes Game to be held prior to the Super Bowl on Wednesday, February 1, 2017 at Delmar Stadium in Houston, Texas.
Captained by U.S. Marine veteran BJ Ganem, the Wounded Warrior Amputee Football Team (WWAFT) looks to extend its 15-0 unbeaten record against NFL alumni and friends again this year.
"Our team is living proof that the loss of a limb doesn't define a person or mean the end of an athletic career," said BJ Ganem. "Every player on the WWAFT appreciates the support from passionate football fans, patriotic Americans, generous sponsors like Blue Buffalo and other organizations that are part of this great event."
The Wounded Warrior Amputee Football Team is composed of men and women who lost a limb while serving this nation in Iraq or Afghanistan. More than 400 NFL stars and celebrities have participated in WWAFT vs NFL alumni games in the past.
"We are pleased and humbled to be a part of such an inspiring event and to be able to give back in some small way to those who have given so much," said David Petrie, President of the Blue Buffalo Foundation.
The NFL Alumni team will include Dallas Cowboy Hall-of-Famer Randy White, four-time Pittsburgh Steeler Super Bowl champion and Vietnam veteran Rocky Bleier, Los Angeles Ram Hall-of-Famer Jack Youngblood, Green Bay Packer legend Jerry Kramer, and more than a dozen former NFL Texas A&M Aggies, Texas Longhorns and Houston Cougars. Gold Medalists Simone Biles and Mary Lou Retton will also attend this tribute to heroes.
Game time is 6pm to 8pm, Wednesday, February 1, at Delmar Stadium, 2020 Magnum Road, Houston. Admission is $10 for adults with free admission for all students, children and military families. All proceeds from the event benefit the WWAFT and Veteran's Initiatives of Houston.
Visit wwaft.org for more information.
Listen to a Randy White and BJ Garem interview here.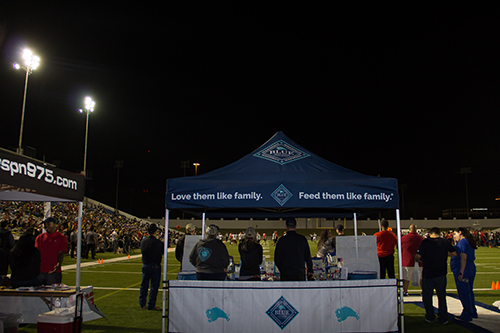 About the WWAFT
The Wounded Warrior Amputee Football Team's (WWAFT) mission is to raise awareness and support for our wounded warriors and their families. The team is made of up service members who have served and are now using a prosthetic device to engage in everyday life activities. By showcasing our team on the football field, the WWAFT seeks to inspire our fans and highlight the perseverance of our service members (both active and former) who continue to face life's challenges without excuses.
The WWAFT visits various cities across the country and endeavors to play exhibition games with current and retired professional athletes. Taking on the best athletes is well within the scope of the WWAFT and emphasizes the fact that all veterans are able to contribute at home, ready to excel in the work place and continue to be great patriots and ambassadors for best country in the world. wwaft.org
About Blue Buffalo Company
Blue Buffalo, based in Wilton, CT, is the nation's leading natural pet food company, providing natural foods and treats for dogs and cats under its BLUE Life Protection Formula, BLUE Wilderness, BLUE Basics, BLUE Freedom and BLUE Natural Veterinary Diet lines. Paying tribute to its founding mission, the Company, through the Blue Buffalo Foundation, is a leading sponsor of pet cancer awareness and of critical research studies of pet cancer, including causes, treatments and the role of nutrition, at leading veterinary medical schools and clinics across the United States. For more information about Blue Buffalo, visit the Company's website at www.BlueBuffalo.com.