BLUE News ARTICLEs:
"Gotham the Cat" Marks One Millionth Pet Adoption
During Global Campaign
Phoenix, Arizona – January 27, 2017 – Helen Woodward Animal Center selected Gotham the cat as the symbolic One Millionth Adoption in its Blue Buffalo Home 4 the Holidays pet adoption campaign which ran from October 1, 2016 to January 2, 2017. On behalf of Gotham, Saving One Life will receive $1,000 from Blue Buffalo to help the volunteer-run animal rescue group feed orphan cats and save pets' lives in the Phoenix area.
"As a foster family, we have many wonderful kitties come through the door that we would love to keep," said Amy McDonald, pet parent of the black cat adopted during the annual Home 4 the Holidays adoption drive. "Gotham was such a special foster that we couldn't part with him. He livens up our home and we laugh at him on a daily basis."
Gotham, his new owner Amy McDonald and participating rescue group Saving One Life, were selected as winners in last month's #IChoseToRescue national photo contest at Helen Woodward Animal Center.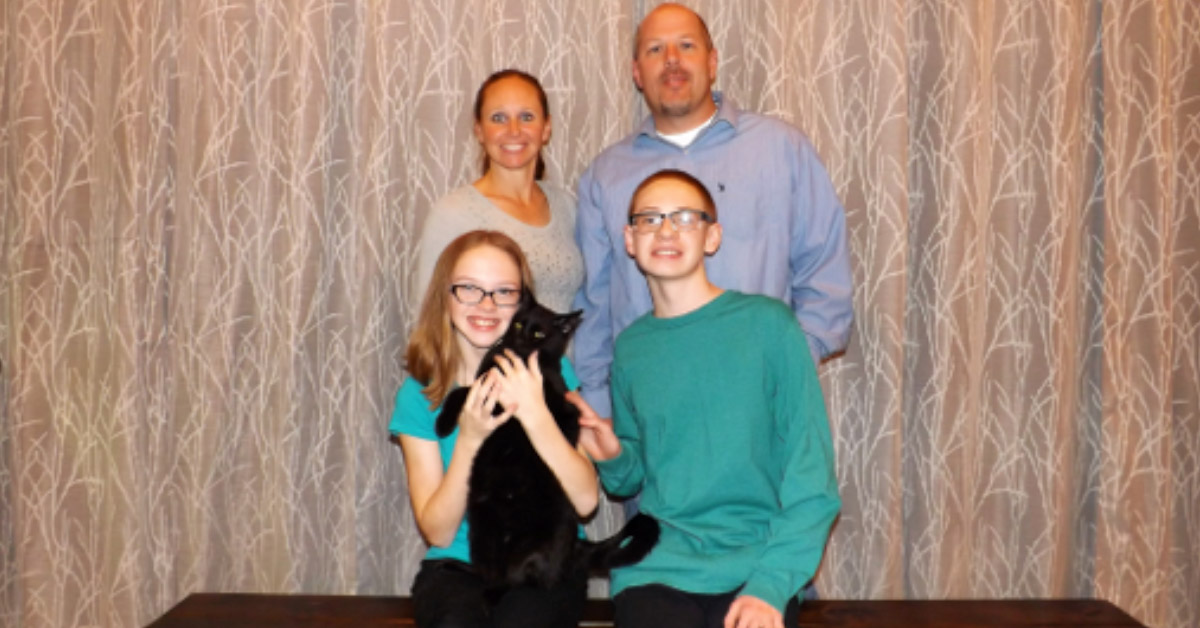 "Gotham's story is what Saving One Life is all about: matching fabulous animals in our rescue with loving forever homes," said Carrie Neidorf, Director of Saving One Life. "Gotham is a one-in-a-million feline who now has a place to call home because of the McDonald family."
The Home 4 the Holidays campaign – now in its 18th year with more than 4,000 pet adoption agencies participating in the U.S. and internationally – reached a record-setting total of 1,333,692 adoptions during the 2016 campaign. In total, Home 4 the Holidays has placed over 12 million pets into loving homes.
"Congratulations to Helen Woodward Animal Center and the thousands of other rescue facilities that helped 1.3 million orphan pets find a forever home this past holiday season," said David Petrie, President of Blue Buffalo Foundation. "We are proud to support pet adoption programs throughout the year and we look forward to the Blue Buffalo Home 4 the Holidays campaign in 2017."
About Helen Woodward Animal Center
Helen Woodward Animal Center is a private, non-profit organization, where "people help animals and animals help people." Founded in 1972 in Rancho Santa Fe, Calif., the Center provides services for more than 57,000 people and thousands of animals annually through adoptions and educational and therapeutic programs, both onsite and throughout the community. Helen Woodward Animal Center is the creator of the Home 4 the Holidays pet adoption drive, the Remember Me Thursday® campaign and The Business of Saving Lives Workshops, teaching animal welfare leaders worldwide. For more information, go to www.animalcenter.org.
About Blue Buffalo
Blue Buffalo, based in Wilton, Conn., is the nation's leading natural pet food company, providing natural foods and treats for dogs and cats under its BLUE Life Protection Formula, BLUE Wilderness, BLUE Basics, BLUE Freedom and BLUE Natural Veterinary Diet lines. Paying tribute to its founding mission, the Company, through the Blue Buffalo Foundation, is a leading sponsor of pet cancer awareness and of critical research studies of pet cancer – including causes, treatments and the role of nutrition – at leading veterinary medical schools and clinics across the United States. For more information, visit www.BlueBuffalo.com.