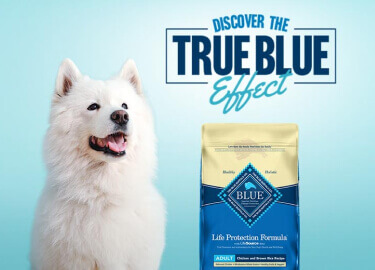 OUR SATISFACTION GUARANTEE
We'll Make It Right
We'll help you find the perfect BLUE Life Protection Formula recipe, on us.
BUY: Buy a participating bag of Blue Buffalo Life Protection Formula Dry Dog Food
RECEIVE: A rebate for the purchase price up to $81.99 USD. Please allow 6-8 weeks for receipt of rebate.
To Get Your Rebate:
Fill out the required fields of this form.
Print and mail this form along with your proof of purchase (store receipt and full UPC barcode from package) to PO Box 1051, Grand Rapids, MN 55745 within 45 days of your purchase. Purchase must be made by 10/31/2023.
Digital gift cards will be distributed via email. Retailer gift cards may include Walmart, Amazon, Target, PetSmart, Petco, or Kroger. Submissions from other retailers will receive a Virtual Visa® Prepaid Card.
See the full Terms & Conditions.