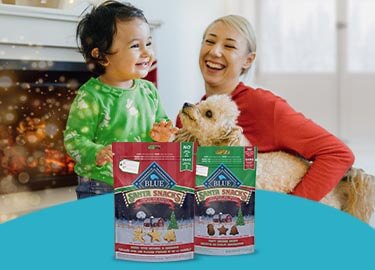 Make the Holidays More Magical with Tasty Treats
'Tis the season for festive treat flavors and shapes! Natural, delicious, and gift-worthy, BLUE dog treats will have yours on their best behavior to make the Nice List.
Explore Dog Treats
Treat Well with BLUE
BLUE dog treats are more than just delicious — they're made with healthy, natural ingredients enhanced with vitamins and minerals. And a variety of tastes and textures — from classic Bones to soft training Bits to meaty Nudges — ensures there's a BLUE treat for every good boy and girl.
Get $1 off your next bag of treats!
Snacks from the North Pole

---

Delightful & Scrumptious

Introduce your buddy to a tasty new tradition and get them in on the holiday cheer. With crunchy and soft varieties, BLUE Santa Snacks have the spirit of the season in every bite.

Classically Crunchy Treats

---

Deliciously Oven-Baked

For pups who crave a crunch (and isn't that all of them?), BLUE offers a wide selection of classic, oven-baked goodness. Treat your dog to a variety of flavours — from bacon, egg, and cheese to banana and yogurt — in healthy recipes sure to satisfy.

Deliciously Meaty Treats

---

Flavours to Savour

Nothing gets tails wagging quite like delicious real meat. Our meat-first treats come in every style under the sun, from pepperoni-style Stix to tender and savoury Nudges Jerky Cuts. Go fetch your dog's new favourite!

Kitchen Classics

---

Inspired by Home Cooking

We share everything with our pups — and the joy of home-cooked foods is no exception. You'll find bacon-style treats, burger-inspired patties, and even a dog-friendly chicken pot pie recipe in this delectable lineup.

Hardworking Dental Bones

---

For a Happy, Healthy Mouth

At BLUE, we're big on great taste with benefits. Our delectable Dental Bones deliver by freshening breath, cleaning teeth, and even promoting gum health — all top priorities for your pup and anyone he's smothering with kisses.

Tempting Training Treats

---

Motivating Morsels

When it comes to training your pup, positive reinforcement is key. Available in a variety of flavours, our training morsels are designed to be doled out as you train without overdoing it.