BLUE News ARTICLEs:
Blue Buffalo Keeps Dogs Warm at Tribal Nations in Northern Minnesota with Help From the Native America Humane Society and Helen Woodward Animal Center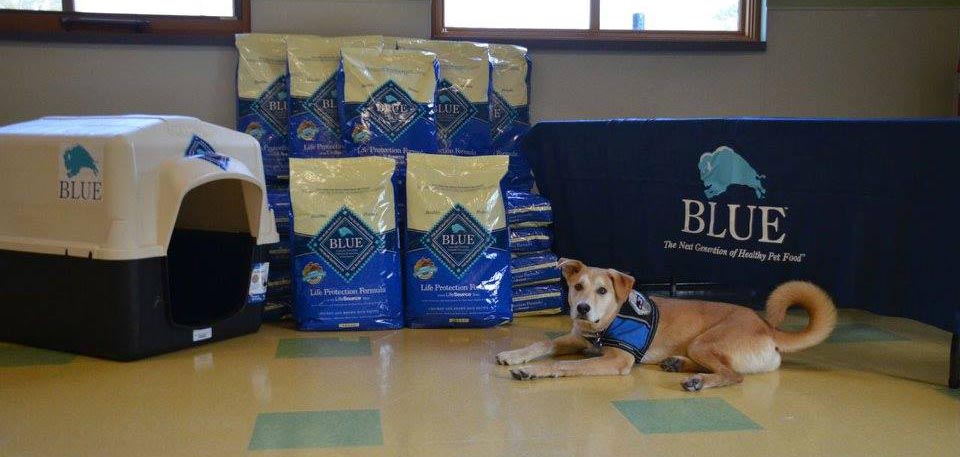 Residents at the Leech Lake, Red Lake, and White Earth Reservations Receive Dog Houses and Dog Food from Blue Buffalo to Keep Their Pets Warm and Well-Fed This Winter
Three Native American communities now have hundreds of buffalo roaming their lands this fall thanks to the generosity of dog food company Blue Buffalo Company, Ltd. Over two hundred dog houses with the Blue Buffalo logo were distributed to deserving dogs and their owners at some of the poorest communities in the state of Minnesota to keep pets toasty warm during what's forecasted to be another record-breaking cold winter in the Midwest. Tribal members from Leech Lake, Red Lake, and White Earth reservations not only received dog houses plus bales of straw for filling but also 6,000 pounds of Blue Buffalo's premium natural dog food.
"Helping our companion animals is something that we at Blue Buffalo feel is a 'Must Do,' says David Petrie, Vice President of Blue Buffalo, "and being able to participate in taking care of animals is closely aligned with BLUE's ongoing mission to help pets live healthier and happier lives."
To promote responsible pet care, the Leech Lake Band of Ojibwe went one step further, again with Blue Buffalo's support, and organized an event to teach their community members to build their own dog houses. Leech Lake Tribal Chairwoman Carri Jones said "Leech Lake is thrilled and excited to begin our partnership and community event coordination with Native America Humane Society and Blue Buffalo. Community members built dog houses with the help of Leech Lake Housing Authority carpenters while over 30 dogs were examined by our volunteer veterinarian at our first ever "Taking Care of the Animals" celebration held in late September 2015. We plan to host more animal events across our rural Leech Lake communities. We thank Blue Buffalo for donating dog houses and dog food for our events!"
The Blue Buffalo dog house, straw, and dog food donations were facilitated by the Native America Humane Society, the only national animal protection nonprofit organized and operated by tribal members, with the help of Mike Arms, CEO of the Helen Woodward Animal Center, a unique, private, non-profit organization in San Diego County that, for over 40 years, has been committed to the philosophy of people helping animals and animals helping people.
Mike Arms added "Helen Woodward Animal Center is honored to support the Native America Humane Society in their efforts to improve the quality of life for tribal communities and their pets—orphaned and owned through humane education."
The Native America Humane Society hopes to launch dog house building events at tribal nations across the country. "Our focus is on empowering tribal nations to make their communities healthier, happier, and safer through animal care," stated Diana Webster, President of the Native America Humane Society. "With support from innovative organizations like Blue Buffalo and Helen Woodward Animal Center, we can reach more pet owners on tribal lands."