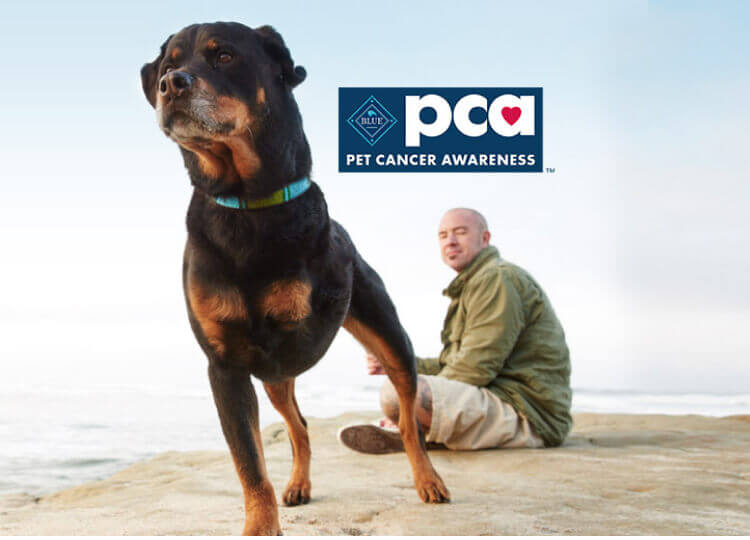 Join the fight against pet cancer.
It's Pet Cancer Awareness month at BLUE! Millions of pets are diagnosed with cancer every year, making it the #1 disease-related threat to our dogs and cats. As part of our ongoing efforts to lead the fight, we're partnering up with Petco Love™ all month long to raise funds for education, research, and lifesaving treatment for pets in need.
Watch Video
Celebrating Second Chances
While pet cancer can be scary, it's important to know there is hope. Pictured below are just a few examples of the amazing pets who have been helped in their battle with cat or dog cancer thanks to our partnership with Petco Love and donations like yours.
Our Partners in the Fight Against Pet Cancer
Resources to Help Protect Your Best Friend
Please take a moment to learn the warning signs of dog and cat cancer and what you can do if your family is affected.
Pet Cancer Symptoms

---

KNOW THE SIGNS

Discovering early warning signs is an important aspect of pet cancer treatment because it gives your best friend the best chance of successful care. Some of the early warning symptoms include:

Swollen lymph nodes or changing lumps
Chronic weight loss
Chronic vomiting or diarrhea
Unexplained bleeding
Oral odor

Pet Parent Resources

---

WHERE TO TURN FOR HELP

We understand cancer in dogs and cats can be expensive to treat. Please know there are resources available to Pet Parents who need assistance covering the cost of veterinary treatment.

For a full list of funds in partnership with Petco Love, please visit our Pet Cancer Resource Guide.

See Available Funds

10 Steps to Take

---

WHEN YOU GET THE NEWS

While a pet cancer diagnosis can be overwhelming, there are a few helpful steps you can take to help ease you through the process. Here's where to start:

Take some time to process the news during this emotional time
Talk to your veterinarian, ask plenty of questions and learn all you can
Reach out to a veterinary oncologist
Keep calm and stick to your regular routine

Read the full article for more information as well as additional steps you can take.
Pant with a Purpose
---
Only on Buddies
Since obesity is a risk factor for pet cancer, we created a Boost in the Buddies app to help your pet(s) get fit. While you rack up points, you'll also help fund pet cancer research! Here's how: Download the Buddies app, activate the Pant with a Purpose Boost, and log three exercises in your pet's timeline between now and May 23. You'll earn 200 points* toward cool rewards like swag and treats, and we'll donate $10 to Morris Animal Foundation to fund pet cancer research.**
*To earn 200 points, user must log three exercises to their pet's timeline by 5/23/23.
**For every completed Boost, Blue Buffalo will donate $10 to Morris Animal Foundation for cancer research, up to $200,000.
Want to join Buddies? Enter your number and we'll send a link!
Want to join Buddies? Select an option to download the app!