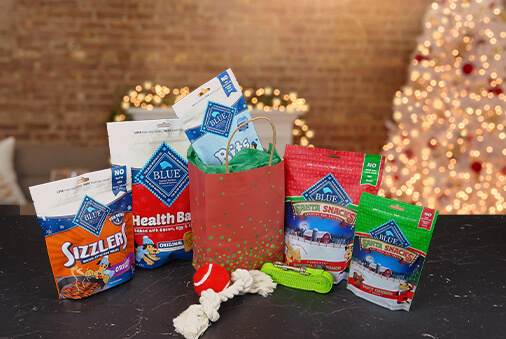 Play Video
Putting a doggy gift bag together is easy. You don't need to include anything too fancy. Here's a video on how to put together a simple combo bag for your dog.
Unique Christmas Gifts for Dogs Work Too
Want something a little different? You can include gifts that are a little outside the box in your bag.
Bacon bubbles for pups? Yup. And peanut butter scented bubbles, too. Hey, even if your pooch doesn't love chasing after these tasty-smelling bubbles, your kids probably will. Find them on Amazon.
Pup-casso paint kit. You may have seen elephants, gorillas and other animals paint on YouTube, so why not your dog? As the manufacturer, Art-Casso, says, "unleash your dog's inner artist" with this pet-safe kit that keeps the paint on the canvas so your pup's paws stay clean and dry.
Toys You Can Enjoy Together
It's the holidays, time to take time off from work and bond with your best buddy. Here are a couple of classic "play-with-me" toys with a twist.
Tennis ball tug: a simple toy that combines two favorites: A ball and a rope.
Playology® tug toys: These durable tugs come in a large variety to suit every type of dog, from heavy-chewing hounds to lighter-chewing pups. They're available with or without squeaks and even in favorite flavors like beef, cheddar cheese and sweet potato!
Add Some Hand-Crafted Dog Gifts
Even if you don't DIY, there are lots of homemade items you can find at sites like Etsy. Durable pulls made from fleece, upcycled tug toys made from retired climbing rope, even colorful, fleece Sniff and Snack puzzle toys.
"New" Standbys Never Fail
Treat puzzle toys and chew toys are always good choices. This flexible, flavored Ruff Dawg™ Bone is even red for the holidays. Of course, pups love to fetch so you can never have enough Frisbees or balls to throw. Go wild with this handy pack of big-cat-inspired tennis balls.
Toss in an Essential or Two
Full disclosure: These gifts are more for pet parents than their best pals, but artistic and personalized dog leashes and tags can help put the fun back in functional gifts. Plus, they're easy to find at pet boutiques online and offline.
Everyday items like canine shampoos, soaps, even toothbrushes are smart additions to your dog's gift bag. Just be sure to help your pooch open the bag so he doesn't mistake bath items for toys or treats.
Must Have Treats
A great grab bag for dogs must include treats. As soon as your dog hears paper crinkling or plastic being torn apart, he'll do his best Pavlovian dog drool and beg for something tasty.
Lucky for you, there are many snacks to choose from. This year, why not reward your pooch with treats that are as healthy as they are tasty? Check out delicious treats in fun seasonal shapes and holiday wrapping to make your dog's gift complete. Trust us, there won't be any leftovers after you open this Christmas doggy bag.
We pet parents don't need a reason to pamper our dogs. The holidays just give us an excuse to over-indulge and show our best friends how much we care. For even more gift ideas for dogs, check out the 25 Best Interactive Dog Toys, but be prepared to fill a much bigger bag. Above all, enjoy watching your dog dig into his gifts and have a safe, wonderful holiday together.
Pet Parenting in the Palm of Your Hand
The free Buddies app puts pet intel and inspiration at your fingertips. Tap into more Learn articles, the Connect community of Pet Parents, and our Ask a Pet Buff feature — where you can chat live with trained experts. You can also use the app to earn points toward exclusive rewards, like swag and treats! Learn More
Want to join Buddies? Enter your number and we'll send a link!
Want to join Buddies? Select an option to download the app!