There are actually quite a few frosting recipes that are safe for dogs. We chose a simple one with plain Greek yogurt as the main ingredient because it contains healthy probiotics, plus tapioca starch, which helps the icing harden.
Safe Frosting Recipe for Dogs
Recipe Yields: 1 cup
Prep Time: 5 minutes

Ingredients:
1/2 cup tapioca starch
1/2 cup plain Greek yogurt
3 tablespoons water
Note: This recipe makes white frosting. To add color, we recommend pureeing dog-safe fruits or veggies like cranberries, strawberries or parsley for natural red or green holiday colors. You can also buy natural food coloring from a health food store. Always check with your veterinarian to be sure it's safe for your dog to have these ingredients.
Directions:
Place tapioca starch and yogurt in a small bowl and combine thoroughly.
Mix in water a tablespoon at a time until you get the consistency of frosting.
Get creative with your icing: Make a holiday decoration, write your dog's name or just dip BLUE Santa Snacks or BLUE Health Bars into the safe frosting.
Place on wax paper to let the frosting harden, then serve immediately after. If preparing ahead of time, refrigerate treats before serving for birthdays, holidays and other celebrations throughout the year. You may even want to leave a few for Santa's reindeer.
Most of all, enjoy celebrating with your best pal!
Watch Our Quick Tutorial Video!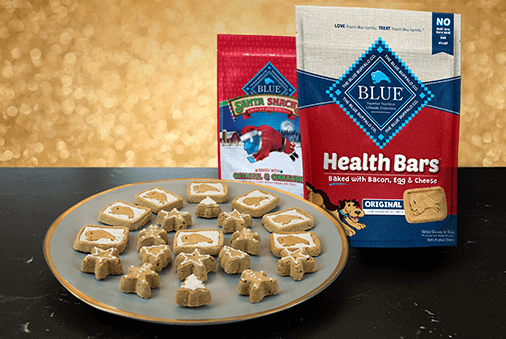 Play Video
How to Make Frosting That's Safe for Dogs
---
Decorating cookies is half the fun of the holiday season
Pet Parenting in the Palm of Your Hand
The free Buddies app puts pet intel and inspiration at your fingertips. Tap into more Learn articles, the Connect community of Pet Parents, and our Ask a Pet Buff feature — where you can chat live with trained experts. You can also use the app to earn points toward exclusive rewards, like swag and treats! Learn More
Want to join Buddies? Enter your number and we'll send a link!
Want to join Buddies? Select an option to download the app!