Jump into the conversation in Connect, a place where you can swap tips, stories, and photos with other Pet Parents like you. Think of it like a social media platform for passionate Pet Parents. Everyday shots of your pet showing off their best fall look, making a goofy face, and gobbling up their favorite treats are all welcome here! From time to time, we'll post contests to celebrate national holidays like Halloween and Christmas, but also unusual ones like National Meme Day. Posting for those events could earn you points.
Scroll through your feed to see what other dogs and cats are up to. You'll see new Blue Buffalo products here occasionally and the latest Buddies merch — learn fresh ways to earn points to get our newest rewards. You might even see a fun recipe you can make for your pup and get the scoop on giveaways of free BLUE treats and swag.
You can also post all the new badges you earn and the memes you built to get some love from other Pet Parents. Of course, you'll want to like and comment on all of their fur-filled memes. They're too adorable to miss.
Where to find it: Navigate to Connect by tapping the chat icon labeled "Connect" on the menu bar at the bottom of your screen. It's the fourth icon from the left.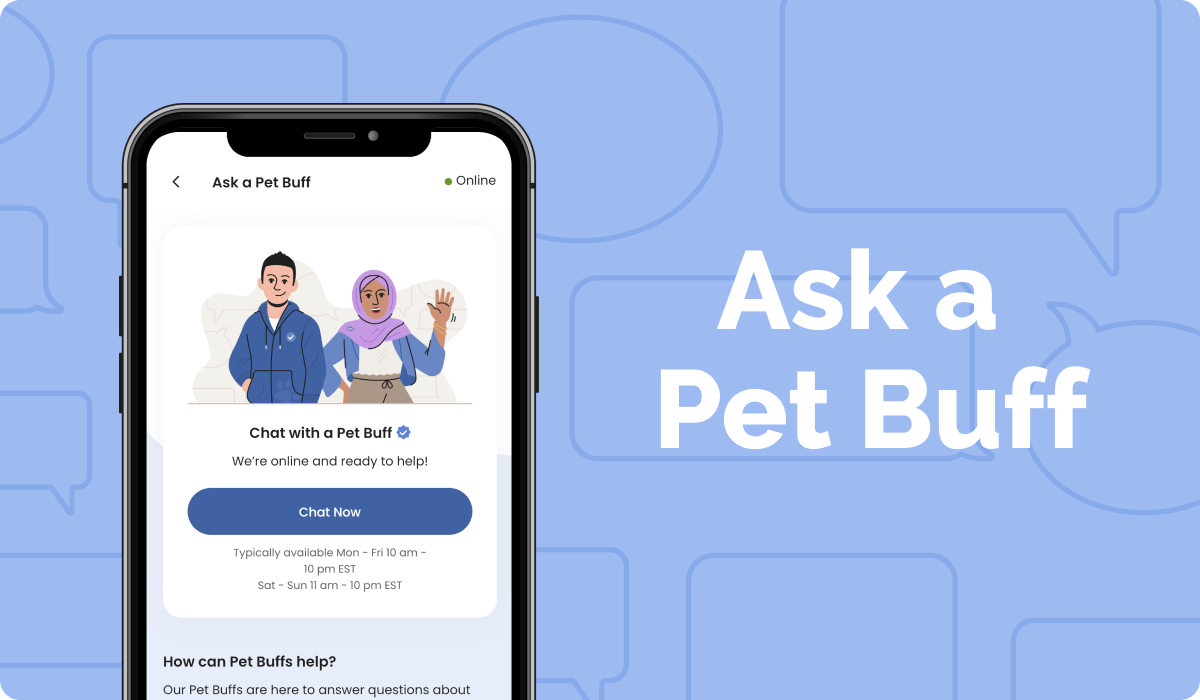 If you prefer to connect one-on-one, look no further — Ask a Pet Buff is here. Get on-demand answers by chatting live with one of our Pet Buffs about anything dog or cat related. Think of them as pet gurus — they know all kinds of things about your pal and why they act the way they do.*
A few things they can help with:
How do I stop my cat from scratching furniture?
When do I switch my puppy to adult food?
What are the best toys for active dogs?
They're here when you need them, too! Our Pet Buffs are typically available Monday – Friday 10:00 a.m. – 10:00 p.m. EST, and on Saturday and Sunday 11:00 a.m. – 10:00 p.m. EST.
Where to find it: Navigate to Ask a Pet Buff from the Buddies Home screen by tapping the menu icon in the top left corner. Then tap "Ask a Pet Buff". You'll also find links to Ask a Pet Buff in Connect — scroll through a few posts until you see "Don't see what you're looking for?" with a clickable link to connect with a Pet Buff.
If you're ready to connect with other Pet Parents and get the latest scoop on how to earn points, we're excited to get to know you. Better start looking through all of your pet pics now — those Connect posts won't post themselves!
*Our Pet Buffs aren't veterinarians. They know a lot about pets but can't offer clinical advice. Call your veterinarian if your pet is having a medical issue.
Pet Parenting in the Palm of Your Hand
The free Buddies app puts pet intel and inspiration at your fingertips. Tap into more Learn articles, the Connect community of Pet Parents, and our Ask a Pet Buff feature — where you can chat live with trained experts. You can also use the app to earn points toward exclusive rewards, like swag and treats! Learn More
Want to join Buddies? Enter your number and we'll send a link!
Want to join Buddies? Select an option to download the app!