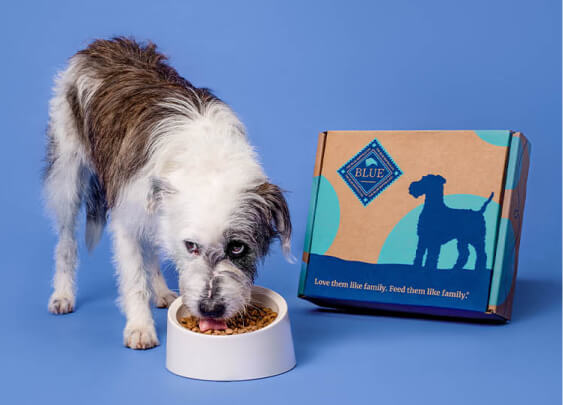 How do you score exclusive swag, treats, and more? Points, points, points. You'll earn them for easily completed app activities, like adding to your Timeline or posting a photo to Connect, plus purchases of select Blue Buffalo foods and treats — including Bundles, available exclusively on the app.
Want to join Buddies? Enter your number and we'll send a link!
Want to join Buddies? Select an option to download the app!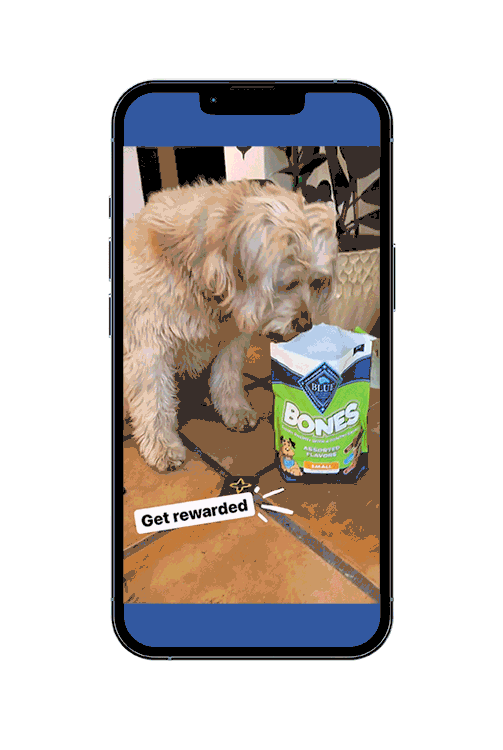 Tap your way to rewards.
---
How to Earn Points
Track your pet's info
Keep tabs on your pet's wellness, milestones, vet visits, meals, exercise, and more in your pet's Timeline — and earn points along the way!
Expand your Buddies family
Add your pet's other family members to your profile to keep everyone informed — and earn points faster, together.
Shop exclusive bundles
Available on the app and nowhere else, our specially curated bundles feature Buddies gear, Blue Buffalo foods and treats, and more. Earn points — and delight your pet — every time you buy one.
Buy Blue Buffalo foods and treats
Feeding BLUE benefits you both! Look for the QR code insert in select products, scan it on your phone, and watch the points roll in. You'll get a special bonus for your first scan!
Refer a friend
Sharing the love puts points in the bank. Introduce your fellow Pet Parents to Buddies and earn 100 points for each person who downloads and joins. Six successful referrals adds up to a free treat!
Start Earning Points
So Many Ways to Use Points
---
Types of Rewards
Exclusive Bundles
Available only on Buddies, these combinations of Blue Buffalo foods, treats, and swag are curated for the various stages and milestones of your pet's life.
Blue Buffalo Foods & Treats
When you get rewards, your pet does, too — especially when you redeem your points for tasty BLUE wet foods and treats. It's a great way to try them all!
Buddies Gear
You'll frequently find exclusive Buddies swag — like collars and travel bowls — in the Rewards Gallery, including special limited-edition items and special artist collaborations.
Join Buddies by entering your number and we'll send you a link.
Download and join Buddies today!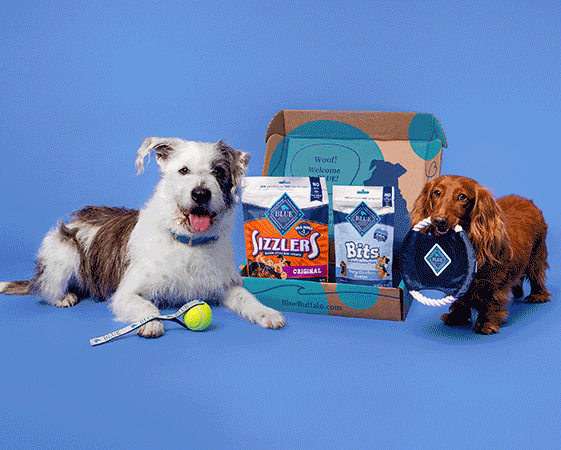 Browse the Rewards Gallery
Maybe you're ready to redeem your points — or maybe you need some motivation to keep earning. Either way, check out the latest lineup of rewards available exclusively on the Buddies app. New items and seasonal surprises are added all the time!

Frequently Asked Questions
How do I enroll?
You are automatically enrolled in Buddies Rewards when you register for a Buddies account in the app!
Who can join Buddies Rewards?
To be a member of Buddies Rewards, you must be at least 13 years old.
How do I earn points?
You can earn points by:
Engaging with the Buddies app by adding your pets' diet and wellness information, as well as entries to your pets' timeline about their exercise routine, vaccinations, medications, and everyday activities.

Purchasing BLUE Bundles — just tap Shop at the bottom of your phone screen in the app.

Purchasing and scanning qualifying Blue Buffalo products.

Learn more about how to earn points

here

.
When do points expire?
Points will expire and be forfeited once an account is no longer active. An account is no longer considered Active if 366 days have elapsed without earning Activity Points or redeeming any portion of the balance. See the official Buddies Rewards Program Terms & Conditions.
How can I redeem my points?
Buddies members can head to the Rewards section of the app to redeem points for exclusive products and experiences. Click here to see how many points are required to redeem for specific rewards.
Where can I locate the QR insert card in eligible Blue Buffalo products?
The QR insert card is typically located inside, toward the bottom of the bag of eligible products. This is different from the SKU barcode located on the outside of the package.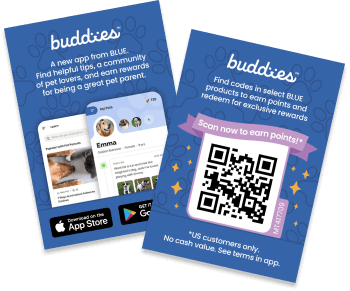 As we continue to roll out the QR insert cards, please note there is a chance not every bag will contain a card. We are actively working to ensure every eligible bag includes a QR code and we appreciate your patience as we enhance this new feature.