Buddies is your one-stop shop for all things pet-related. After all, we designed it for Pet Parents like you. You can do everything from earn points and redeem them for fun rewards like free treats and wet food to get expert advice from our Pet Buffs. There's also a library of articles with all the tips and tricks you could want, a meme generator to turn your pet into internet gold (who doesn't love that?), and an entire community of other Pet Parents waiting to meet you and your pet.
Not sure what to do with all of these features? Don't fret, we've got you. We'll walk through every section here, and what it can do for you and your adorable family members.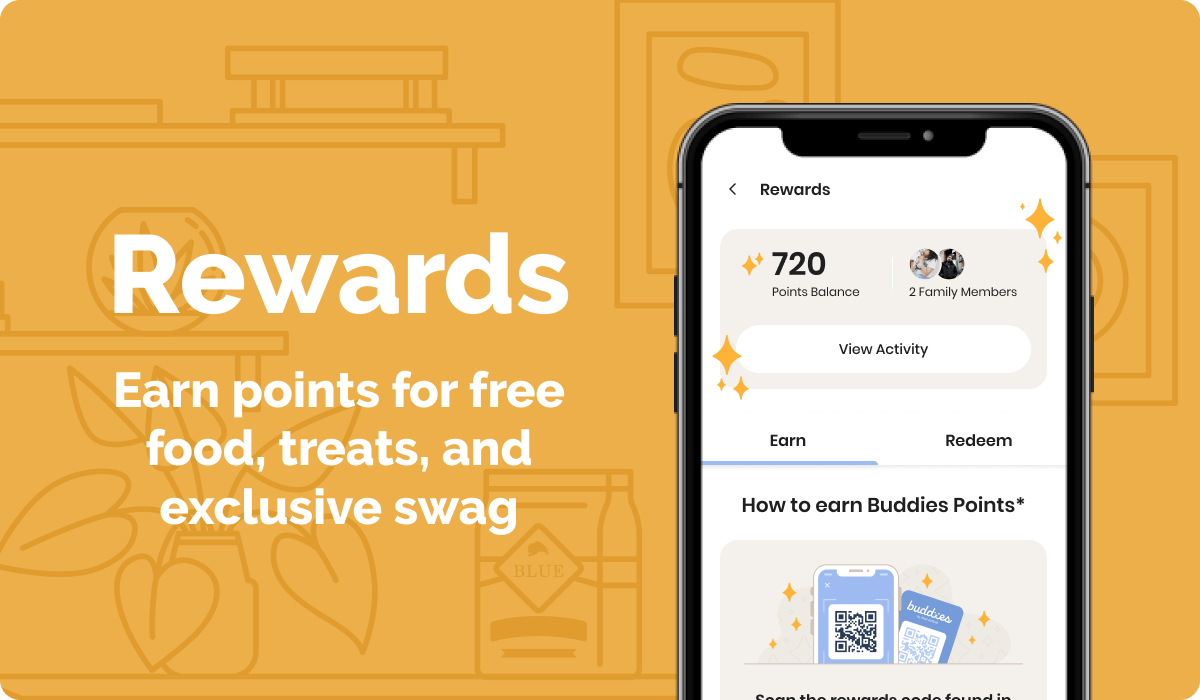 Rewards
Let's start with Buddies Rewards because no one should miss out on those. When you earn enough Buddies Points for a reward, you can redeem those points for things like free treats and exclusive swag. How do you earn points?
Let us count the ways:
Just for downloading the app and signing up
Every time you buy eligible Blue Buffalo food or treats, just scan the QR codes inside the food or treat package.* (Your first scan gets you bonus points!)
Using the app: when you create a profile for your pet(s), share the app with friends, buy BLUE Bundles, and more
Boosts help you earn more points when you're active in Buddies and when you buy eligible BLUE products. Boosts come and go though so check Buddies often to see what's new
Celebrating your pet's birthday
There are two types of points: Activity Points and Perk Points. Activity Points include most of the earning opportunities we just covered from actions you take on Buddies. You'll get Perk Points for things like limited promotions or fun special events, such as your pet's birthday.
No matter how you earn points, you can redeem all of them for some seriously awesome rewards.
How to redeem your points
You can see your points balance and a full rundown of how you got all of those points in the Rewards section of Buddies. There's also a section explaining how to earn more points and how to spend them. Just tap on "Redeem" and you'll see our shiny rewards.
Here's the best part: points are the only way to get that reward you're eyeing — your money's no good here. You'll find a variety of goodies for both cats and dogs — from wet food and treats to BLUE Bundles and limited-edition swag like pet bandanas designed by local artists that are only available in the app.
Want to learn even more about Rewards? Check out this article.
Where to find it: Navigate to Rewards from the Buddies home screen by tapping "My Rewards" in the top right corner. Or you can tap the menu icon in the top left corner, then tap "Rewards" toward the middle of your screen.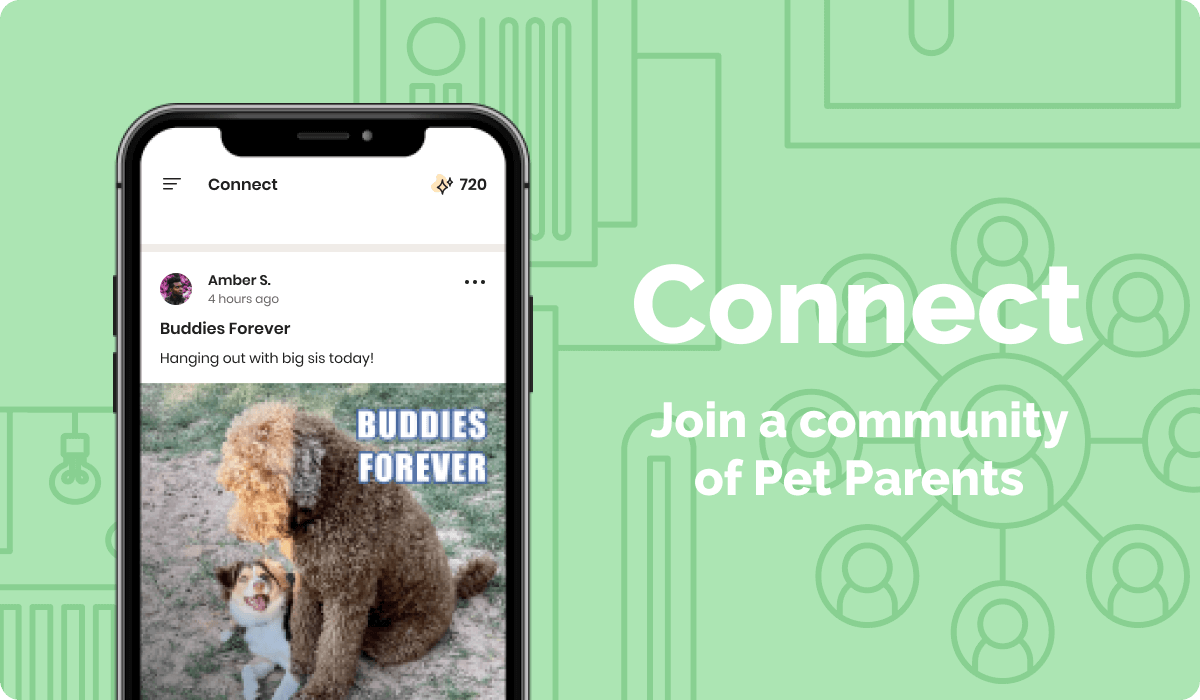 Connect
Connect is all about… connecting! It's a live forum to swap tips, stories, and photos with other Pet Parents like you. Think of it like a social media platform for passionate Pet Parents. You'll have a feed where you can scroll and scroll to see what other dogs and cats are up to, learn about new Blue Buffalo and Buddies promotions and ways to earn points, and like and comment on all the pet memes. There might even be impromptu giveaways here where you can win BLUE treats and Buddies swag.
Want to learn even more about Connect? Check out this article.
Where to find it: Navigate to Connect by tapping the chat icon labeled "Connect" on the menu bar at the bottom of your screen. It's the fourth icon from the left.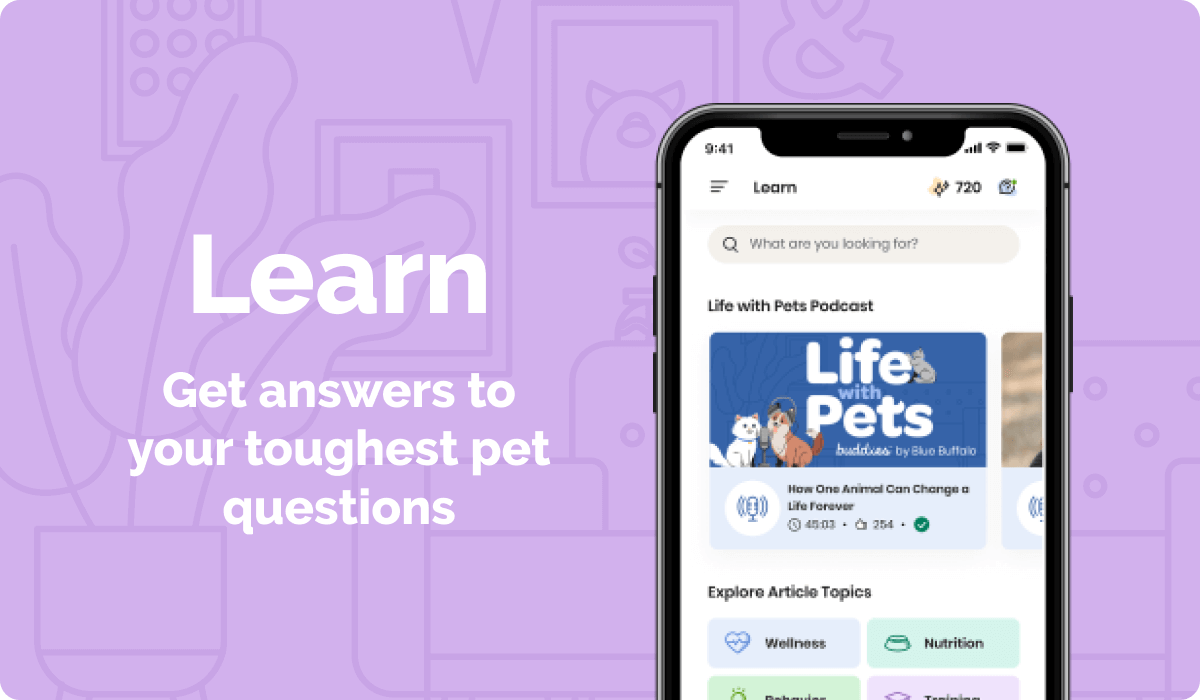 Learn
As Pet Parents, we face many factors affecting the lives and well-being of our four-legged companions. Between managing diets, training, unique quirks, or even how to celebrate holidays with your pets, being the best mom or dad takes a special kind of attention and effort.
That's why we created Learn, your central location for staying informed about cats and dogs. Here you'll find articles on a variety of topics addressing a full spectrum of issues, tips, and advice for your pet's individual needs. Want to feed your dog human food? Find out what to avoid. Wondering why cats love boxes? See what the science says. Considering pet insurance? Discover the benefits. Whatever your question, we hope to answer it here.
You'll also get episodes of our biweekly podcast, Life with Pets, in Learn. It covers everything from real pet stories to interviews with pet professionals and beyond.
Want to learn even more about Learn? Check out this article.
Where to find it: Navigate to Learn by tapping the book icon labeled "Learn" at the bottom of your screen. It's the third icon from the left.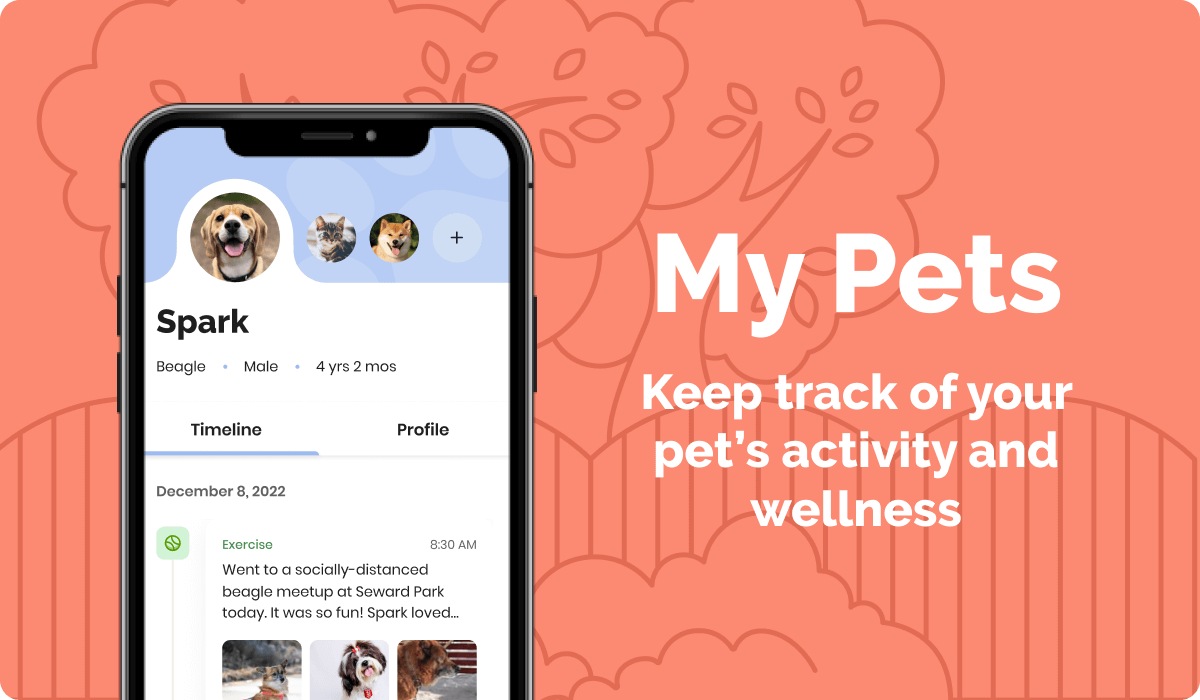 My Pets
This section is all about your four-legged family. You can keep track of what they're eating, their vaccinations, set reminders, and more — all in one place.
Buddies is here to help you be the perfect Pet Parent your pets think you are: Add reminders for their vet appointments and any special moments you can't forget in My Pets. Oh, and even better, you'll earn points for adding in those details for each pet, plus bonus points if you log walks or exercise three or more times per month!
Want to learn even more about My Pets? Check out this article.
Where to find it: Navigate to My Pets by tapping the paw icon labeled "My Pets" on the menu bar at the bottom of your screen. It's the second icon from the left.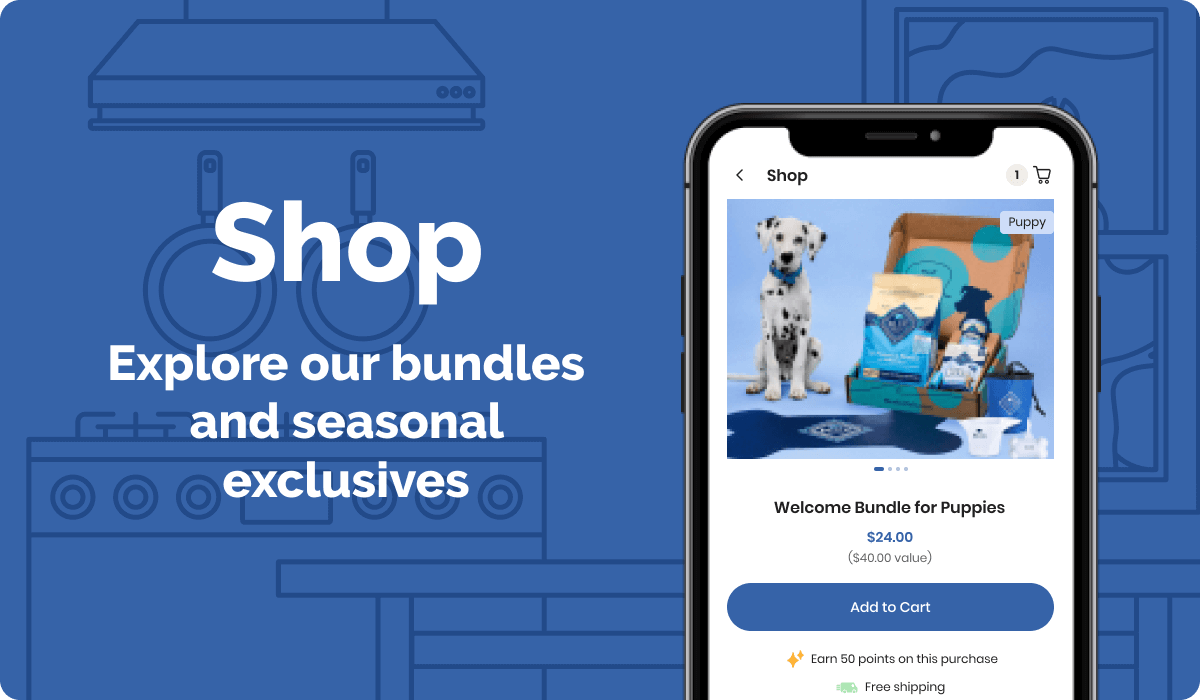 Shop
This is where you'll find all the incredible BLUE Bundles we keep talking about. And you'll only see these specially curated Bundles on Buddies. They have everything from epic Buddies and Blue Buffalo gear and seasonal exclusives like our snuggly dog sweater to Blue Buffalo food and treats. You'll earn points every time you buy or build one, and of course, get lots of brownie points with your pup or kitty.
Want to learn even more about Shop? Check out this article.
Where to find it: Navigate to Shop by tapping the bag icon labeled "Shop" on the menu bar at the bottom of your screen. It's the last icon on the right.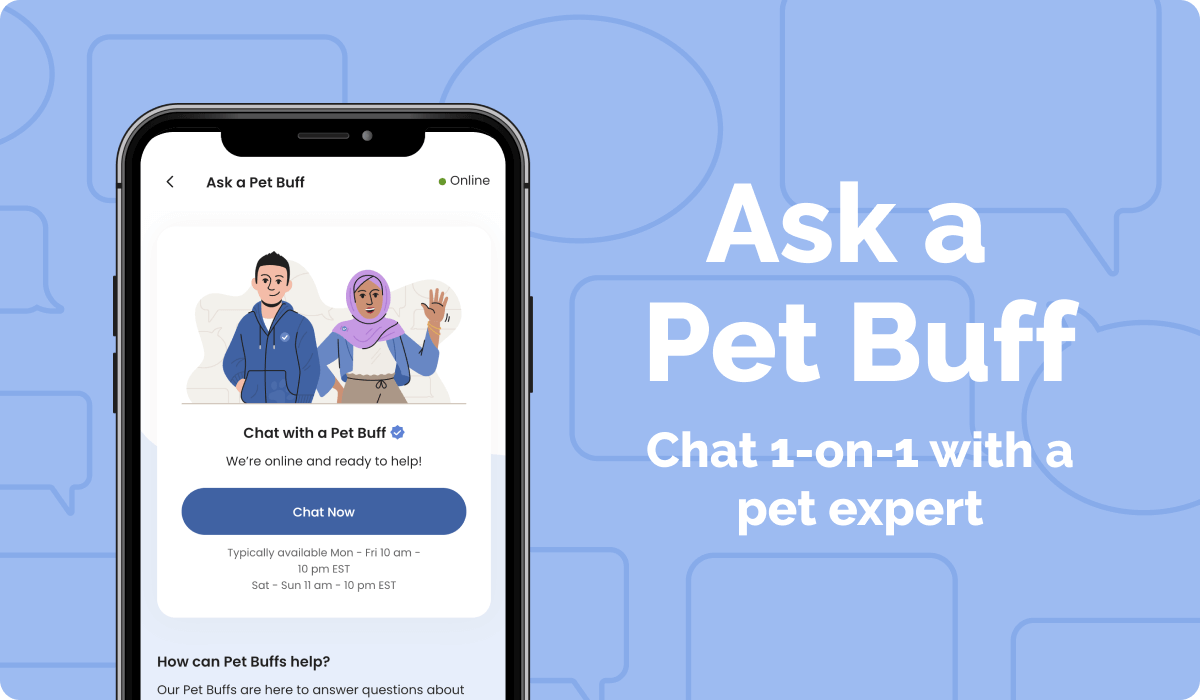 Ask a Pet Buff
Looking for some advice? We can only cover the four-legged kind, but we've got lots of it to go around! Get on-demand answers by chatting live with one of our Pet Buffs. Think of them as pet gurus — they know all kinds of things about your pet's diet and why they act the way they do.**
Things you can ask them:
How do I stop my cat from scratching furniture?
When do I switch my puppy to adult food?
What are the best toys for active dogs?
They're typically available Monday – Friday 10:00 a.m. – 10:00 p.m. EST, and on Saturday and Sunday 11:00 a.m. – 10:00 p.m. EST.
Where to find it: Navigate to Ask a Pet Buff from the Buddies Home or Learn screens by tapping the question mark icon in the top right corner. Or you can tap on the menu icon in the top left corner, then tap "Ask a Pet Buff" near the bottom of your screen.
Hopefully this Buddies overview was helpful, but if you're hungry for more, we've written other Buddies 101 articles that focus on each section in more detail. If you want to dig into which Learn articles we offer or want to know how to maximize your earning potential with Rewards, just search for Buddies 101 in the Learn search window to explore the other five articles in this series.
*As we continue to roll out the QR insert cards in packages of Blue Buffalo, please note there is a chance not every bag will contain a card. We are actively working to ensure every eligible bag includes a QR code and we appreciate your patience as we enhance this feature.
**Our Pet Buffs aren't veterinarians. They know a lot about pets but can't offer clinical advice. Call your veterinarian if your pet is having a medical issue.
Pet Parenting in the Palm of Your Hand
The free Buddies app puts pet intel and inspiration at your fingertips. Tap into more Learn articles, the Connect community of Pet Parents, and our Ask a Pet Buff feature — where you can chat live with trained experts. You can also use the app to earn points toward exclusive rewards, like swag and treats! Learn More
Want to join Buddies? Enter your number and we'll send a link!
Want to join Buddies? Select an option to download the app!